Fairness disregards social class, age, disability, race, gender and sexual orientation and identity.
When treated fairly, people are not disadvantaged in life because of these characteristics and have equal access to opportunities.
With our partners, The Lord Mayor's Appeal will strive to narrow gaps that exist in the City and beyond between those who have and those who do not and help to ensure that everyone is empowered to succeed.
The issue in numbers

1:3

1:3 children are living below the poverty line. (OnSide Youth Zones)

The issue in numbers

1m

There are 1 million young people not in education, employment or training. (NEET)

The issue in numbers

80%

80% of young Londoners say their local area does not provide them with enough to do outside school. (OnSide Youth Zones)
A simple and
impactful initiative
City Giving Day is one day in the year when businesses can unite to celebrate and showcase their charitable and volunteering achievements with employees, clients, suppliers and the public.
City Giving Day provides small businesses or large corporations the opportunity to engage with their employees, recruit volunteers, have fun, raise money and showcase their charity partners/charitable giving.
Unite behind a common cause

Celebrate the work and success of hundreds
of charities and communities that the City supports.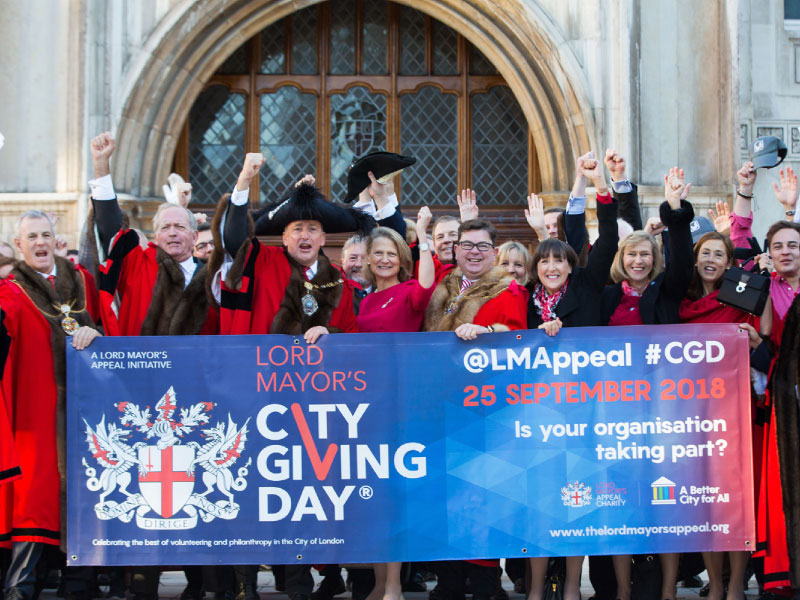 Watch
Danielle's
Story
Danielle's daughter – one of twin eight-year olds, suffered from a period of severe anxiety and low self- esteem, which was affecting her relationships at school and at home.
She lacked confidence, felt ugly and angry, and said she was 'not good enough'. Fortunately Place2Be was already at her school and she began to have weekly sessions to give her the support she needed.
Danielle feared that without professional help her daughter's emotional wellbeing would have only worsened leading to increased problems.
Making inroads
Inspiring
even more organisations
400 400 Volunteer Counsellors in London funded by The Lord Mayor's Appeal.
1,000 1,000 children and young people supported this academic year.
100 100 schools reached in total this academic year.
Space to express
how she was feeling
Being the mum of three children, managing her daughter's distress was difficult, especially as her twin is an extrovert. She is extremely grateful for the support of Place2Be during that time.
The sessions gave Danielle's daughter the space to express how she was feeling and find ways to manage these emotions. She regained her confidence, her sense of fun and started to become herself again. Now she's playing well with her sister and others again and can't wait to start secondary school
I believe that if she didn't have any help she would have had deep problems, especially transitioning to secondary school.
Will you help?

Making a lifetime of difference to children with Place2Be.
Get
Involved

With your support, we can make an unprecedented change to help one million people thrive.

Your donation will make a lifetime of difference

City Giving Day The opportunity to engage with employees, recruit volunteers, have fun, raise money and showcase charity partners/charitable giving.