Imagine seeing thousands demonstrating their commitment to help #endthestigma on World Mental Health Day by wearing a green ribbon.
The Lord Mayor's Appeal, as part of This is Me, runs the Green Ribbon Campaign to help #endthestigma of mental health, building on the inspiring impact of This is Me storytelling.
Sometimes organisations aren't ready for storytelling so you don't have to have run This is Me to wear a green ribbon. All we ask is that you help us raise awareness to #endthestigma!
#endthestigma with the Green Ribbon campaign
The issue in numbers

300,000

300,000 people with a long term mental health problem lose their jobs each year, and at a much higher rate than those with physical health conditions. [Mental Health and Wellbeing in Employment, Deloitte October 2017]

The issue in numbers

£33bn-£42bn

£33bn-£42bn is the annual cost to employers of poor mental health (with over half of the cost coming from presenteeism). [Mental Health and Wellbeing in Employment, Deloitte October 2017]

The issue in numbers

61%

61% of employees have experienced a mental health issue due to work or where work was a contributing factor.

The issue in numbers

16%

16% of employees felt able to disclose a mental health issue to their line manager. [Mental Health at Work Report 2018, Business in the Community]
Order Yours Today
#endthestigma
We're encouraging employees to wear their green ribbons for World Mental Health Day on 10th October 2019 so that collaboratively we can create a sea of green! There is no time like the present so put in your order in now to guarantee your involvement in this nationwide initiative.
FAQs
The Ribbons
The Green Ribbons and Green Ribbon pin badges are supplied with a backing card that shares details of the campaign.
Cost
All we ask is that you cover the cost of the ribbons which include postage. These are 45p per ribbon and £1 per pin badge. Branded display boxes can be ordered at a cost of £5 per box. Fundraising tins are also available if you wish to ask your employees for a donation.
Delivery
Order now to get your ribbons ahead of World Mental Health Day.
Support materials
Once your ribbons are ordered, you will be emailed a toolkit with advice about how to roll out the ribbons as well as templates to help you promote the campaign.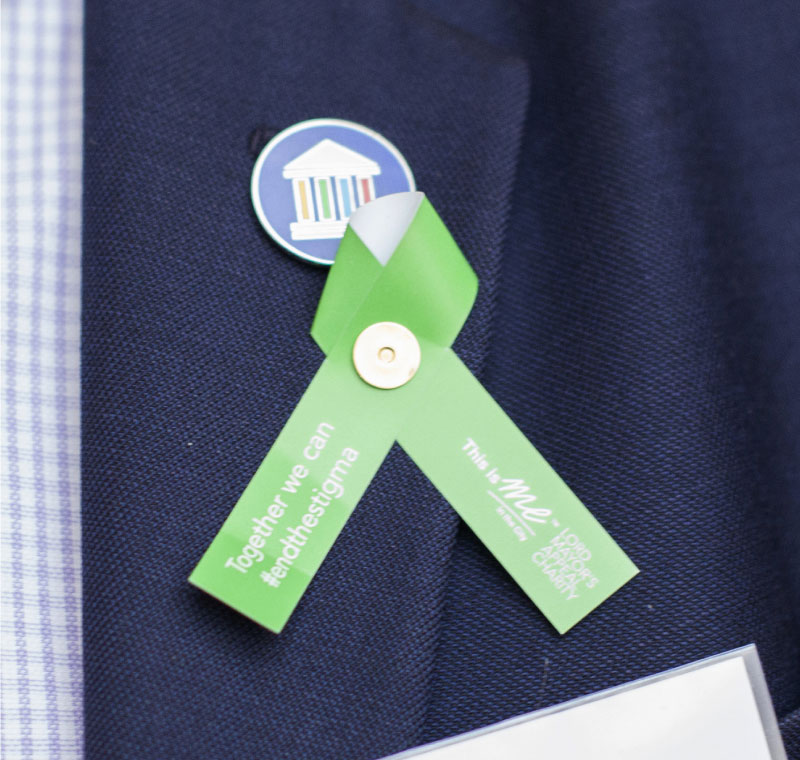 Digital Resources
We want to make it as easy as possible for you to run your Green Ribbon campaign internally, which is why we provide a Toolkit with every order.
If you're looking for a bit more to flesh out the campaign, why not use some of our downloadable resources?
From digital signage to email signatures, you will be able to download all sorts of resources to support your campaign. If you want to support us online, why not add the Twibbon to your social media profile pictures?
Don't forget to let us know @LMAppeal and #endthestigma!

Get
Involved

With your support, we can make an unprecedented change to help one million people thrive.

Your donation will make a lifetime of difference

This is Me The pioneering campaign encourages organisations to share their employees' lived experiences about mental health