Collaborating
for change.
Inclusive workplaces are more productive, more commercially successful, have a better understanding of their customers, and have a happier more engaged workforce.
Through membership of the Power of Inclusion series, member organisations collaborate for change, hear about innovative programmes that are already proven to be successful, and share lessons learned.
This Year's Breakfasts
A real, tangible difference.
Each one of our Power of Inclusion breakfast events are attended by the Lord Mayor and focus on a particular area of need identified as a priority by our members.
We use our networks in The City and beyond to find organisations and senior leaders who have tried and tested something that's made a real tangible difference
Get started:

Practical tips and tools for both business leaders and HR/Diversity professionals.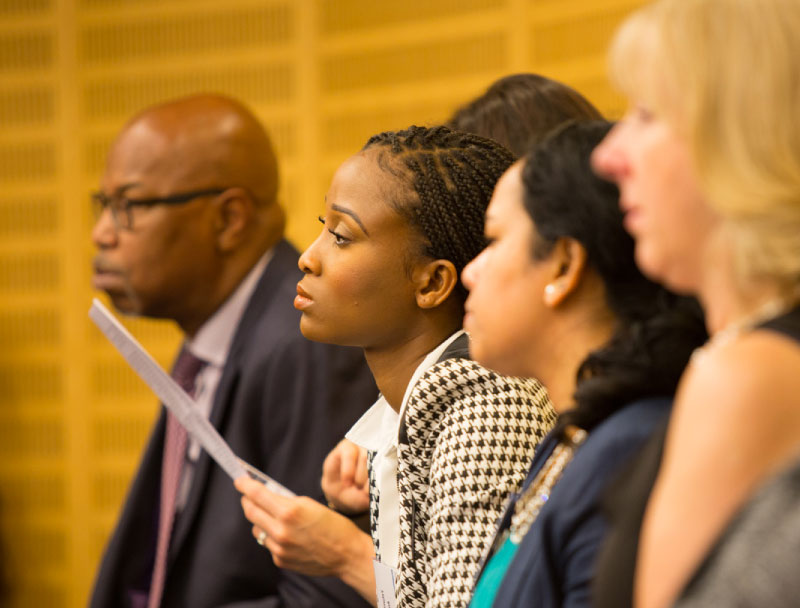 All the different sectors show up in the room and offer ideas, exchange best practices and understand what the burning platforms are. It makes it easier for us to go back and make a difference
James Taylor,
CEO of Sodexo UK
Vondo's Story
Vondo became a Marketing Trainee at Invesco at the age of 18. Coming from a council estate outside of London having arrived in the UK with his parents as a toddler, it wasn't an obvious choice.
For his peers, The City is viewed as having little career prospects, no room for elevation, and no potential for financial prosperity. He was supported by Investment 2020 with the skills and networks to apply for roles after successfully completing his A-Levels. Dialogue and mentoring has enabled him to succeed and he is now in a full-time role.
Making inroads
The beginnings of change
105 105 organisations came together to collaborate for change by attending our events.
96% 96% of attendees rate our speakers as good or excellent for the high quality of content and delivery.
75% 75% of members say they have used information or ideas gained at an event to influence leadership within their organisation.
A place to go and
people to speak to
Having Vondo as part of the team at Invesco has furthered a culture focussed on diversity of thought and enabled them to shape their business for a more inclusive workforce. This inspires the collegial culture and decision-making ethos that makes them more robust and representative of the world they live and work in.
As a speaker at the Power of Inclusion Breakfast Vondo has had a platform from which he can discuss what is important to young people and speak to senior leaders whom he would never have even considered meeting before.
It is this success that he wishes to share with his peers to encourage them to strive for more and to challenge organisations to do more to open their doors to extremely talented and ambitious young people like himself.
Opportunities are tangible, realistic and attainable.
Book your place

Power of Inclusion provides practical tips and tools for both business leaders and HR/Inclusion professionals.
Get
Involved

To become a member of the 2019 series, or for further information please contact us: