This is Me provides employers with the tools to change cultures around mental health.
The pioneering campaign encourages organisations to share their employees' lived experiences about mental health through blogs, video or other medium, a concept initiated by Barclays. Our evidence proves that storytelling is one of the most powerful tools for behaviour change, with organisations that are sharing stories making accelerated progress compared to those that are not sharing stories.
This is Me:
How to participate guide
Aim for 2019
This is Me has grown substantially and by the end of the 2018 campaign had over 500 organisations involved, reaching over one million employees. 2018 saw the launch of This is Me North West and This is Me Scotland with other regions. 2019 has seen the launch of This is Me West Midlands, in partnership wih the West Midlands Combined Authority.
Our ambition in 2019 and beyond is to continue this growth nationwide, to reach some of those harder to reach sectors as well as the many smaller enterprises that are in the Square Mile. We will continue to support our organisations in creating mentally healthy workplaces for all.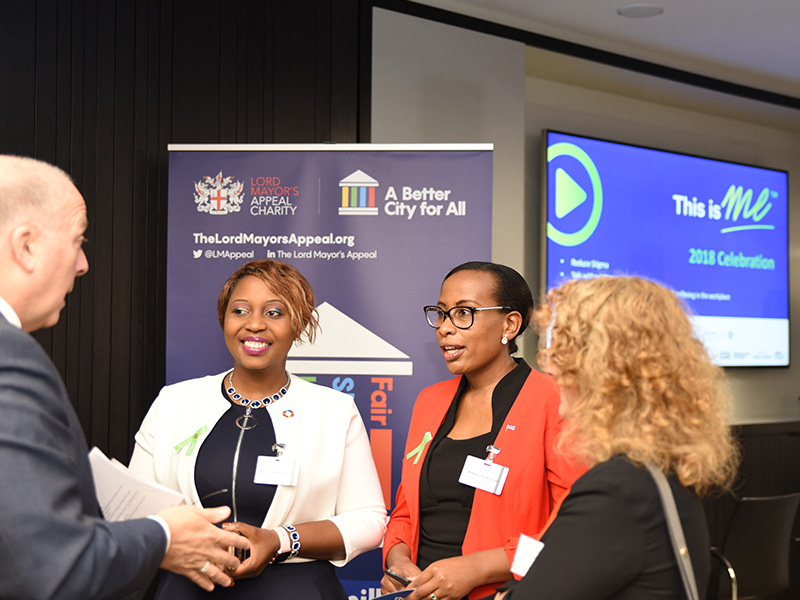 Watch
Chris's
Story
Suffering from 'burn out' trying to balance work and life demands, Chris, a Barclays Transformation Director, was diagnosed with stress, anxiety, sleep deprivation and was potentially days away from a stroke.
She took a supported leave of absence whilst she recovered through rest and talking therapies, and returned to work five months later with a different perspective and a passion to support others in protecting their wellbeing.
Making inroads
The beginnings of change
96% 96% of organisations say that This is Me has a positive impact on reducing the stigma of mental health.
100% 100% would recommend the Green Ribbon campaign.
96% 96% of organisations said the Green Ribbon helps create a focus on mental health.
A massive shift
in attitudes
Through Chris' workplace Reach Network at Barclays, she became aware of the This is Me campaign and decided to share her story via video. The reaction was extraordinary, with over 700 responses of support from every level of the organisation.
Since then she has noticed a massive shift in attitudes towards normalising mental health issues and helping remove the stigma associated with mental health conditions within the company and the City as a whole.
She now feels confident that she has the tools to manage her health pro-actively and has begun an MSc in Psychology and Diploma in Counselling to further her ambitions to work professionally supporting others.
Recognised for her support of the campaign by being nominated as Barclays Woman of the Year, she is one of the many leaders within the company making good mental health a priority.
It was a good way of connecting to a colleague and remembering we're all human
Register your organisation

Find out more about the initiative and the support available.
Get
Involved

With your support, we can make an unprecedented change to help one million people thrive.

Your donation will make a lifetime of difference

The Green Ribbon The green ribbon has the simple, but powerful, message of 'Together we can #endthestigma'